HomeProduct InfoProduct Info|Chain Couplings
Chain Couplings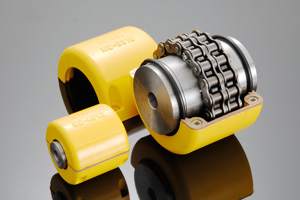 Simple structure coupling comprised of two strand roller chains and 2 sprockets.
Its centering tolerance between both axes are large, ensuring high transmission ability despite its compact size.
Some types of finished products have been processed according to the new JIS standards for key and in some other types, their shaft hole has been processed.
Chain Couplings Product Info and Catalogue Download
Chain Coupling Body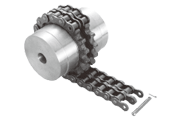 Coupling is the set of two sprockets for coupling and two strands of chains. The shaft bore of each sprocket can be processed, making this coupling flexible, easy to install, and highly efficient in transmission.
Characteristics of Chain Coupling:
Compact size, higher transmission efficiency than other couplings, cost effectiveness
Easy to handle and center
Highly resistant to its operating environment with a long life
The clearance between the sprocket and chain allows flexible transmission.

Coupling number: KCM 3012, 4012, 4014, 4016, 5014, 5016, 5018, 6018, 6020, 6022, 8018, 8020, 8022, 10020, 12018, 12022
* Refer the catalog for details of how to select a chain coupling.

Chain Coupling Casing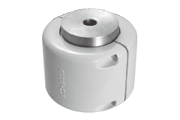 This casing is made of aluminum die-cast material and rotates together with the coupling main unit via their O-ring connection.
This casing can be split for the convenience of installation and maintenance. Whenever using this with a high rotation rate, in an abrasive atmosphere with dusts, and in a corrosive atmosphere with moisture, put this casing and fill the grease.
* Refer the catalog for details of how to select a casing.
Chain Coupling Body with finished bore
"Couplings with shaft bore processed" whose commonly used shaft diameter, new JIS key, and set screws have been preliminarily processed are also available. It is not necessary to add processing by customers and can be quickly installed.
* Contact our sales representatives for details of product line.
---
You need Adobe Reader to open this PDF file.

Click the left buttom to download and install Adobe Reader. You can view the file after the installation.