homeProduct InfoProduct Info|Small Conveyor Chains
Small Conveyor Chain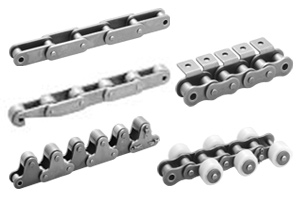 These JIS-standard conforming, double-pitch chains allow the installation of attachments such as slats, plates for transportation, pins, and bar so that they can match a wide range of customers' designs.
These include double-pitch chains, carrier chains, and triple speed chains comprised of resin rollers that can directly transport pallets.
Applicable items such as A-1, A-2, K-1, and K-2 attachments, side rollers, top rollers, lubrication free types, stainless-steel, and nickel-plated types are available.
Small Conveyor Chain Product Info and Catalog Download
Selection of Small Conveyor Chain
---
You need Adobe Reader to open this PDF file.

Click the left buttom to download and install Adobe Reader. You can view the file after the installation.