homeProduct InfoProduct Info|Sprocket
Sprockets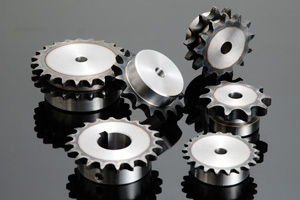 Many types of sprockets are available for standard roller chains.
We also accept orders for standard products such as those in conformance with JIS and BS, double-pitch, single-double, hardened A-type, stainless sprockets and make-to-order products for agricultural and special machines.
Various types of finished products that have been processed according to the new JIS standards for key and whose shaft hole has been processed are also available.
Sprockets Product Info and Catalog Download
Roller Chain Sprockets (pilot bore)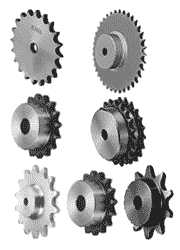 For smooth transmission of roller chains, the precise engagement of a roller chain and a sprocket is required.
The lives of a roller chain and a sprocket depend on whether the number of the sprocket's teeth ( velocity ratio) and the selection of its center distance and arrangement is appropriate to the roller chain used. Please give special consideration to the selection of sprocket to avoid the reduction in its smooth rotation and transmission efficiency.
Standard roller chain A type Sprocket、B type Sprocket、Double pitch roller chain B type Sprocket

Sprockets(Finished Bore)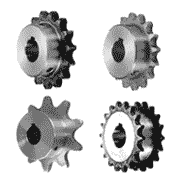 "Sprockets with shaft bore processed" whose commonly used shaft diameter, new JIS key, and set screws have been preliminarily processed are also available. It does not require any additional processing by customers and can be quickly installed.
* Contact our sales representatives for details of product line.
Stainless Steel / Single Double Sprockets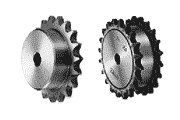 Stainless steel sprockets

Use stainless steel sprockets for heat-resistant/corrosion-resistant stainless steel chains.

Single Double Sprockets

Use single-double sprockets for roller chains for driving the rollers of a roller conveyor.
We also manufacture 2-strand B-type, hardened A-type, and special sprockets for agricultural machines on a per-order basis.

---
You need Adobe Reader to open this PDF file.

Click the left buttom to download and install Adobe Reader. You can view the file after the installation.