HomeProduct InfoProduct Info|Transmission Chain
Transmission Chain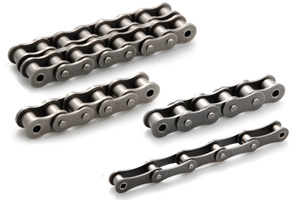 We provide comprehensive types of transmission chains ranging from standard simplex/multiplex roller chains conforming to JIS, ANSI, and ISO standards to high fatigue resistance (LL series), lubrication free, stainless heat-resistant/corrosion-resistant type, and surface-treated chains, which are used in many industrial equipment such as automobile, industrial machinery, food industry, and logistics equipment.
Transmission Chain Product Info and Catalog Download
Components and Parts of Roller Chain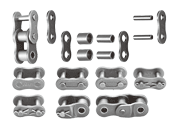 Our roller chains have been developed as transmission or conveyor chains essential for modern industries through matching diversified needs.
Their components consists of the combinations of five types of parts.

Standard Roller Chain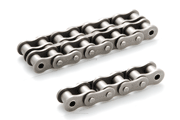 There are 12 types of standard simplex roller chains and 11 types of multiplex roller chains in accordance with JIS and ANSI. We provide comprehensive types of transmission chains used in a wide range of industries such as industrial machinery, automobile, logistics and transportation equipment, agricultural machines, timber industry, paper and carton manufacturing, mining, and general manufacturing.
Chain number:KCM 25, 35, 41, 40, 50, 60, 80, 100, 120, 140, 160, 200

BS Roller Chain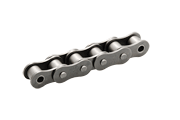 This product conforms to ISO 606-B series. Please contact us if you need this for equipment or machines imported form Europe.
Chain call number: KCM 03, 04, 05B, 06B, 08B, 10B, 12B, 16B, 20B, 24B

Lubrication free Chain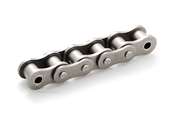 KCM lubrication free chain is a maintenance-free chain with self-lubricating capability using a special oil-impregnating bush.
Please use this product at a location where oil impregnation is not preferable or in-service oil impregnation is difficult.
KCM lubrication free chain have two types "NL" &"SL".
NL: Its rollers enable smooth mesh with sprockets.
SL:The chain is made of thick sintered sleeve, soaked in oil.
Nickel-plated version and a variety of attachments are also available.
Use this chain at the chain velocity of 150m/min or lower.
Should be used in the range of common operating temperatures (-10゚C to +150゚C).

Chain number:KCM 40NL, 50NL, 60NL, 80NL, 40SL, 50SL, 60SL, 80SL

H-type Roller Chain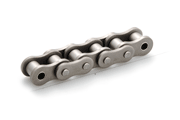 This chain has a thicker link plate than standard roller chains and has employed high strength and hard steel for its pins to increase its strength to a higher level than ANSI H-type.
Chain number: KCM 40H, 50H, 60H, 80H, 100H, 120H, 140H

High Fatigue Strength LL Series Roller Chain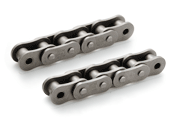 KCM "LL (Long Life) Series Roller Chains have undergone intensive improvements in their fatigue strength from pursuing appropriate shapes for link plate to employing high strength steel for all of their parts. They have a higher fatigue strength and thicker plate.
Chain number: KCM 80LL, 100LL, 120LL, 140LL, 160LL
Chain number: KCM 60HLL, 80HLL, 100HLL, 120HLL, 140HLL

Heat- and Corrosion-resistant Stainless Steel (SS) Roller Chain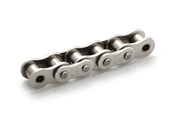 This chain complies with JIS, ANSI, and ISO 606-B series standards and has employed SUS304 (18Cr-8Ni) austenite stainless steel for all its parts. It is appropriate to an environment that requires heat-resistance (-20 to 400゚C), corrosion-resistance, and aesthetics. With attachments installed, it can be used for transportation.
Note: KCM stainless steel roller chain has slight magnetism because it has been cold worked.
Chain number: KCM 25 SS, 35 SS, 41SS, 40 SS, 50 SS, 60 SS, 80 SS , 100 SS
Chain number: KCM 04 SS, 05B SS, 06B SS, 08B SS, 10B SS, 12B SS, 16B SS

Strengthened Stainless Steel (AS) Roller Chain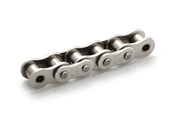 To realize this product, the pins and rollers of SS chain have been replaced with those made of precipitation hardened stainless steel to improve its allowable load.
Its maximum allowable load is 1.5 times larger than SS chain. Please use this in case an SS chain will be short of allowable load.
Its corrosion-resistance is slightly lower than SS chain. Its operating temperature is -20゚C to +400゚C.
(Note: This product has magnetism since it contains precipitation hardened stainless steel.
Chain number: KCM 40 AS, 50 AS, 60 AS, 80 AS

Surface Treated Roller Chain N, DC, BC, DG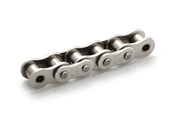 Surface treatment has been made on the standard steel chain to improve its aesthetics and add corrosion-resistance. Please select appropriate surface-treated chains for your applications requiring environment resistance.
Rustop (N): All parts are plated with special nickel.
DC coat (DC): The surface is treated with baked special film. Its color is mat silver white.
BC coat (BC): All parts have undergone a special mechanical surface treatment. Its color is mat dark gray. Meets RoHS directive.
DG coat (DG): All parts are treated with special coat and top coat. Meets RoHS directive.

Chain number: KCM 40, 50, 60, 80, 2040, 2050, 2060, 2080, 2080H

Double-pitch Roller Chain (for Transmission)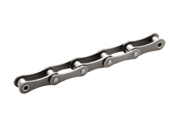 Double-pitch chain whose pitch is doubled compared to standard roller chain. Since it is using the same parts as standard roller chains except for link plate, the strength remains the same and the number of parts are reduced to the half of that of standard chains, which achieves weight and cost reductions. This roller chain is best suited for relative long power transmission at lowspeed.
Chain number: KCM A2040, A2050, A2060, A2080

Semistandard Roller Chain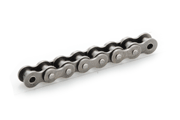 Please use this product when the width of a standard chain (L1 and L2) is too wide and has limitations on downsizing.
Chain number: KCM 415, 415S, 420, 428, 520, 525, 630

Leaf Chain
Leaf chain, also called a balance chain, features a simple steel structure consisting of plates and pins. This chain is used for load fitting and balancing.

Chain number:AL system KCM AL422(pitch 12.7mm)~AL1622(pitch 50.8mm)
Chain number:BL system KCM AL423(pitch 12.7mm)~AL1446(pitch 44.45mm)

Selection of Roller Chain
Selection of Roller Chains
The selection of a roller chain can be made in the following way:
Chain power transmission tables: transmission capacity values (kW) available based on the number of teeth of the small sprocket at the driving side and its number of revolutions (r/min).
Quick selection chart : a roller chain should be selected from a simple selection table based on the number of revolutions of the small sprocket (r/min) and the required transmission capacity (corrected kW).
General roller chain selection method: select a roller chain based on: 1. kW to be transmitted, 2.corrected kW, 3. rpm of driving shaft and driven shaft, 4. shaft diameter and sprocket boss
Low speed roller chain selection method: selection in a low-velocity transmission with its chain velocity of 50m/min or slower.
Documentation is available about the selection of roller chain length (number of links), center distance, temperature in the operation environment of the chain, its installation method, lubrication method, and appropriate lubrication oil after the selection of the chain.

---
You need Adobe Reader to open this PDF file.

Click the left buttom to download and install Adobe Reader. You can view the file after the installation.