HomeProduct InfoProduct Info|Transmission Chain
Transmission Chain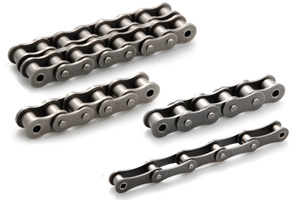 We provide comprehensive types of transmission chains ranging from standard simplex/multiplex roller chains conforming to JIS, ANSI, and ISO standards to high fatigue resistance (LL series), lubrication free, stainless heat-resistant/corrosion-resistant type, and surface-treated chains, which are used in many industrial equipment such as automobile, industrial machinery, food industry, and logistics equipment.
Transmission Chain Product Info and Catalog Download
Selection of Roller Chain
---
You need Adobe Reader to open this PDF file.

Click the left buttom to download and install Adobe Reader. You can view the file after the installation.