New Products
What is SSP Stainless Roller Chain
The video explains the features of SSP Stainless Roller chain.
SSP Stainless Roller Chain
Quality is realized at the highest level. 5 times long life, 3 times strength and SUS304 class corrosion resistance.
Applications
In order to achieve SUS304 class corrosion resistance to pin, bush and roller individually, NSSC550 material from NIPPON STEEL Stainless Steel Corporation is used for them.
The life of the chain is extended by improved wear resistance.
The lifetime is five times longer, so line stoppage is reduced due to the longer replacement cycles.
The strength is increased with around three times larger maximum allowable tension, so chain downsizing is possible. 
   Please see this page for the details.
   Please download the PDF of broucher.
11SS Roller Chain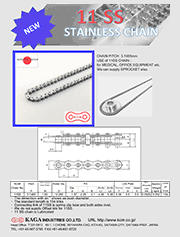 3.7465mm pitch High Corrosion-Resistance with SUS304 Stainless Steel
Applications
Medical devices
Office equipment
Plastic models
Others
Sprockets are also available.
SOS CHAIN

Lubrication Free Stainless Steel chains
Lubrication Free Stainless Steel Double-Pitch Chain
Reduces the time and labor for maintenance!
Decreases the production loss due to line stop!
Reduces the cost for chain replacement!
Accepts attachments!
Safely used for food processing machinery!
Product Info
Policy about production of KCM Roller Chains
Kaga Industries Co., Ltd. has developed a wide range of products and businesses based on its technologies nurtured in its long history since 1956, its foundation year when it started producing its roller chains. Today, we are actively promoting various measures to evolve into "a company continuously providing the best and unique transmission roller chains in the global niche market.
We will focus on the following four topics in our mid-to-long term business strategy:
Reinforcing our basic businesses
Promoting business enhancement and development of new products for our future growth
Strengthening our global operating system
Working on CSR (corporate social responsibility)
What's New
| 2017.07.12 | Website updated. |
| --- | --- |
| 2015.04.20 | Released "SOS Chain", a lubrication free stainless steel chain. |